THE NEXT MEETING
IN CHURCH
Since tomorrow night will be our
last meeting before our
June barbecue at
the Biancardi's again
(official date coming soon),
I had the idea to speak about
some of the things we say at Mass,
since the Mass will keep us spiritually
united until we meet again in the Fall.
In other words,
there are lots of things that we say
at Mass without always understanding why,
and I thought it would be interesting
(and hopefully helpful)
to look at some of those things.
For example, during the Consecration,
we say "…like the dewfall,"
or before the Our Father,
we say "…we dare to say,"
or afterwards when we say
"…as we await the blessed hope
and the coming of Our Savior."
There are others,
like that curious expression
in the Saint Michael Prayer,
"…and all the evil spirits
who prowl about the world,"
or the words we hear
just before receiving Communion,
"…blessed are those called to
the Supper of the Lamb!"
What do these things even mean?!
You'll be amazed at
the reasons behind them.
I'll give each of you a card
with all of the ones I'll speak about
- the ones I think stand out
as most mysterious -
to make it easy to follow along.
I hope you will enjoy it.
You will definitely learn something
that may make your experience
of Sunday Mass come alive
in a new way.
Father Rob
with
Bryan Kwasnik
HE LEADETH ME
by Father Walter Ciszek S.J.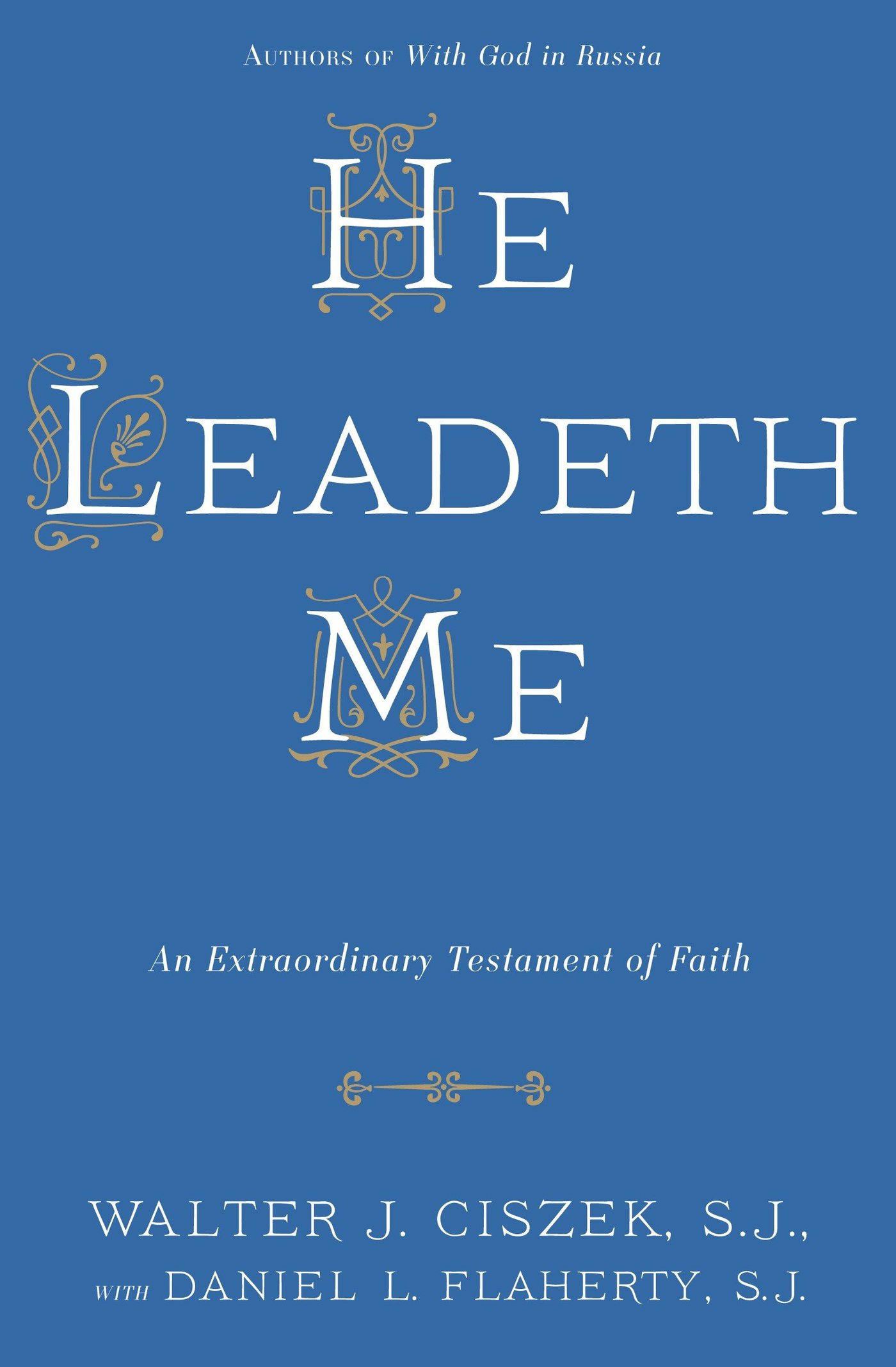 AUDIOBOOK
You can follow along
on the PETERSBOAT Podcast
(on Apple or Spotify)
or on the
PETERSBOAT
YouTube Channel.
Captured by the Russian army
during World War II
and convicted of being
a "Vatican spy,"
American Jesuit,
Father Walter J. Ciszek
spent 23 years in Soviet prisons
and the labor camps of Siberia.
He endured unspeakable hardship
before being returned to the States.
In this book, he reflects not only
on the trials he endured, but also
with both simplicity and depth
about his personal prayer,
which alone eased the pain
and sustained him.
This being the Year of Saint Ignatius,
we thought it fitting to read this book,
as He Leadeth Me offers the reader
an excellent way of learning
the Spiritual Exercises and
Discernment of Spirits
from one of Saint Ignatius'
most beloved sons.
Father Ciszek's cause for canonization
was opened in 1990,
just six years after his death.
GROUP SCHEDULE
JOIN US ANY TIME
NEW TO THE ROUNDTABLE?
Once a month, there's a
ROUNDTABLE
a meeting in the church
with pizza and beverages
in the Siena Room.
There are also
Zoom calls (Roundups)
just to keep the fire burning
between meetings.
Sign up for the email and
let us know you're coming to
the next meeting.
- Father Rob
with
Bryan Kwasnik
PRAYER TO SAINT JOSEPH
O Blessed Saint Joseph,
to whom the Son of God was entrusted,
teach us what it means to be a man.
Amen.