MASS TIMES
Saturday 5PM
Sunday 8AM (Streamed)
10AM and 12PM
Monday - Friday 9AM
(Streamed)
Saturday 8:30AM
(Streamed)
[All Mass intentions are listed
on our parish calendar.]
CONFESSIONS
TUESDAY, AUGUST 3RD
following 9AM Mass (Church)
except if there is a Funeral
WEDNESDAY, AUGUST 4TH
6:00 - 7:00PM
FUNERALS
James Fitzpatrick
Memorial Mass
[Saturday, August 7th at 1:00PM]
DEVOTIONS
Church Open Daily 8AM to 8PM
(to 2PM on Sundays)
Friday Holy Hour
8AM to 9AM
The Holy Rosary Daily
following the 9AM Mass
[except if there is a Funeral]
First Saturday Rosary
prayed before 8:30AM Mass
Taize Holy Hour for Healing
2nd Tuesday of the month
7PM to 8PM
Family Adoration
1st and 3rd Tuesdays of the month
[for families with young children]
6:30PM to 7:30PM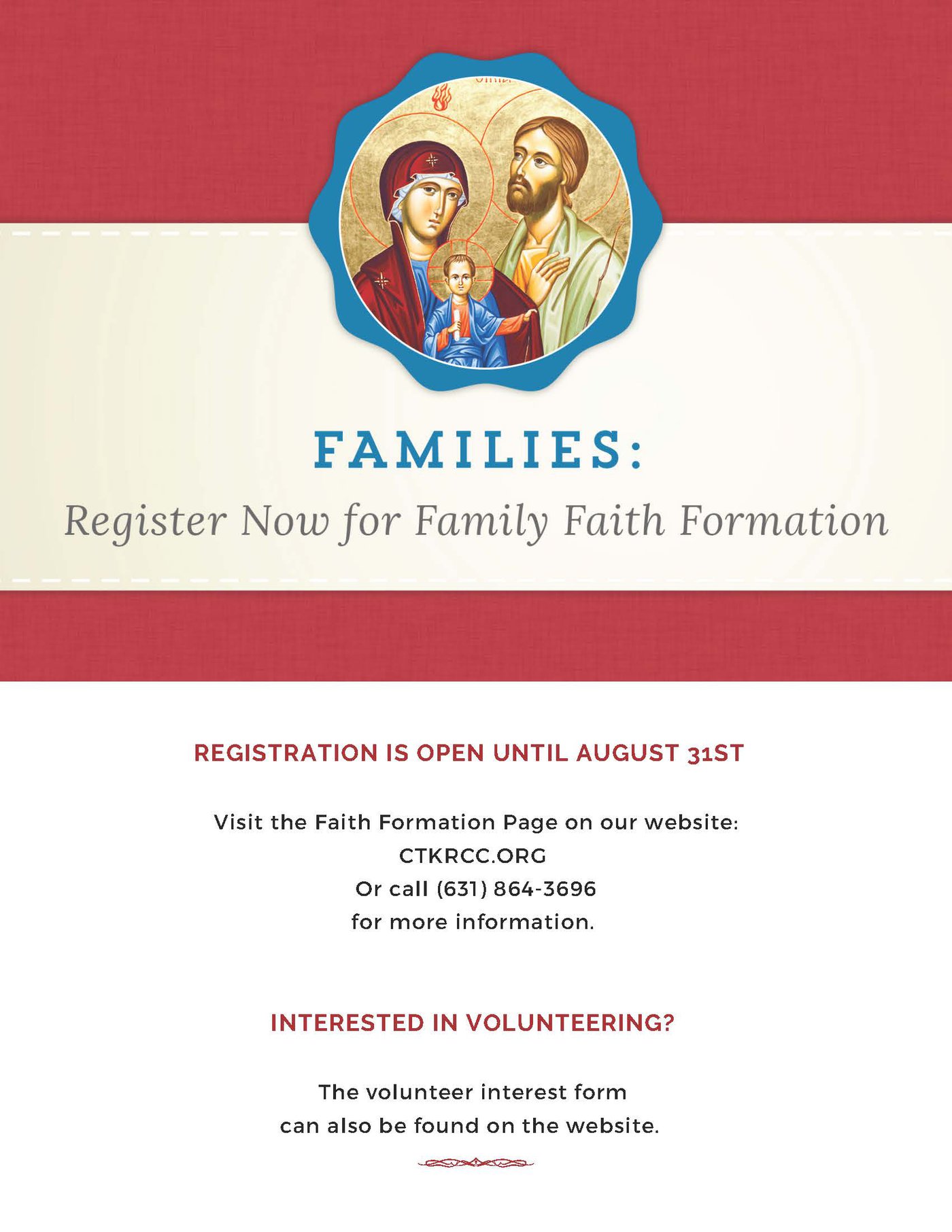 SPECIAL INTENTIONS
For
John Poggi | Nick Poulis | Jeffrey Wheeler | Christopher Frey | Alexander Vecchione | Mary Muratore | Joe Palazzo | Baby Abigail Elliot | Jaclyn Falcone | Carol Tonner | Peter Petruzzi | Henry Keidel | Daniel Costello | Gerard Mastellone | Joseph Tenga | Al Jurgensen | Helen White | Custodia Parker | Maria Poulis | Fern Neuenschwander | James Murphy | Christine Evans | Mary Louise Curry | Mary Ann Komst | Diane Ullman | Gige Anderson | Denise Giambalvo | Patricia Mudge | Nestor Lobito | George Yurcak | Liam Richards | Barbara Bombace | Mark Becker | William Cardone, Sr. | William Duckham | Jim Cook
For the repose of the souls of:
Joan T. Amodio
MEMORIALS
SANCTUARY CANDLE [Sofia Elisa Cusimano +]
ROSE FOR LIFE [Jeannie Maher +]
BREAD AND WINE [available]
DEVOTIONAL CANDLES
Saint Therese [available]
Saint Anthony [available]
Saint Jude [available]
The Holy Family [available]
Sacred Heart of Jesus [available]
The Blessed Mother [available]
These large devotional candles, by each of the shrines in our church, burn for the whole week. Please contact Rose Ann Linko [ralinko@ctkrcc.org] at the parish office to dedicate any of these Memorials. The offering is $25.
PAVER MEMORIALS
Brick pavers in Our Lady's Prayer Garden are available to be engraved in memory of a loved one, to mark a special occasion, or commemorate a living person or family. The offering is $130.
LIVES OF THE SAINTS
NEWS AND UPDATES
AROUND THE DIOCESE
St. Dominic High School is offering a 2021 TACHS Exam Prep Course. For more information, contact Mrs. Stutzmann at (516) 922-4888, ext. 5241.
Sister Dorothy is presenting a program called The Chosen, which gives insight into Jesus and His disciples, in various local parishes in the coming weeks. If you would like more information, please give Sister Dorothy a call at (516) 429-2904.
Lord Jesus Christ, King of our hearts,
have mercy on us!